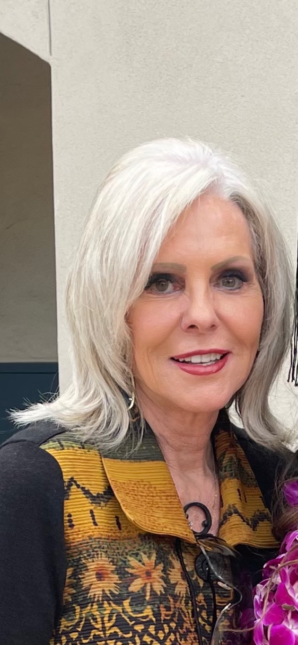 Dear Partner,

I want to tell you of one of the darkest experiences of my life…..I AWOKE ONE MORNING TOTALLY BLIND!

Needless to say, I was hit with confusion and fear! Within hours we were in an
eye doctor's office. But after hours of examination, he was without an answer as to the
cause.

Dwight took me home and carried me into the house and laid me on the bed.
We cried… and we prayed… and we held each other. FOR MONTHS THERE WAS NO SIGHT…
Walking was not possible without help, and Vertigo was a daily struggle! After
many eye specialists had done all they could do… even after two separate cornea
surgery transplants and various other treatments, I struggled with almost no vision for
years.

There were times during the night when I was in severe pain in my one eye that
had experienced the surgeries.
God bless doctors who are dedicated to helping hurting people….But I know the real healer is Jesus!!
I would lay in bed thinking about Jesus who is at the right handof the Father and was praying for me. Romans 8:34 He shares our feelings and gives us help and grace in our times of need! That thought would comfort me…knowing that God's Word is truth and the final authority. And we can rest in that knowledge!!!
At times I would wonder what would have become of me during these trying
times, if I had not believed that I would see the goodness of God in an overwhelming
way in my lifetime.
Psalms 27:13 The Spirit of God will take hold WITH YOU against weakness.
HE IS A VERY PRESENT HELP IN OUR MOST DIFFICULT TIMES.

This is what I called "A very difficult time"… but my Father God was right there
with me! Jesus said… "I am with you always, even to the end of the age." Matthew 28:20

TODAY AS I WRITE THIS TO YOU… MY SIGHT IS RETURNING IN BOTH EYES!
THANK YOU, JESUS!!!

After 9 years… I can now SEE my husband in the room with me! Whatever your need is today, please write us. Let Dwight and me stand in agreement with you. "Our God and Savior, Jesus Christ, is a very present help in time of need." Psalms 46:1
Looking forward to hearing from you. We love you,
DWIGHT AND ZONELLE
P. S. Jesus said in Matthew 18:20… "Where two or three are gathered together in my name there
am I among them." JUST THINK… We pray WITH each other and we pray FOR each other, and
Jesus is at the right hand of the Father praying for us!

Jesus prayed for all of his disciples. That's why when we ask you to send in your prayer requests
and let us be in agreement with you for God's answer in prayer for your life, we are believing with
you for the victory!

We love and appreciate you so much!! Thank you for your prayers and support. We are honored
to have you as a friend and partner in this ministry.